This vegan gluten-free apple crisp is made of sliced granny smith apples topped with a buttery and nutty crumble. Pairs best with a scoop of vanilla bean ice cream and a drizzle of date syrup or vegan caramel sauce.
Fresh apple crisp topped with a scoop (or two) of vanilla bean ice cream is my favorite way to commence the fall season. I think it's the best fall dessert (fruit crisp and cobbler over pie any day!).
The combination of tart apples, paired with nuts, cinnamon, and a bit of sweetness all come together quite perfectly as it's baked. It only takes about 10 minutes to throw together, using one bowl, and is a perfect excuse to go apple picking ASAP!
If you love apples, be sure to check out these apple recipes too:
Jump to:
Vegan gluten-free apple crisp ingredients
This apple crisp recipe comes together with simple ingredients that you probably already have on hand! Grab a large mixing bowl and a baking dish, along with the following ingredients:
Granny Smith apples are the best apples for crisp not only for their sour and tart flavor but additionally because they hold their shape and do not get mushy when baked.
Lemon juice: optional, but the additional citrus in combination with apples tastes wonderful and helps the spices adhere to the apple slices.
Cinnamon: provides warmth and the cozy flavors you expect from apple crisp.
Nutmeg: just a touch is used in combination with the cinnamon for additional flavor and warmth.
Sea salt: a pinch is used to enhance the flavors of the dish.
Certified gluten-free oats: added for density and to ensure the crumble doesn't burn as it bakes.
Pecans (or walnuts): love the use of pecans as they add to the buttery flavors and work well with the oats to provide a slight crunch.
Almond flour: a gluten-free flour that lends to the nuttiness of the crumble.
Coconut sugar: adds sweetness and caramel-like flavors.
Vegan butter: Miyoko's oat milk butter is a creamy and luxurious plant-based butter that adds moisture and helps the crumble stick together. It also helps the apple crisp, become crispy.
Pure maple syrup: a drizzle of maple syrup is the finishing touch on the crisp. It adds sweetness and helps to bring out stronger notes of caramel from the coconut sugar.
How to make the apple filling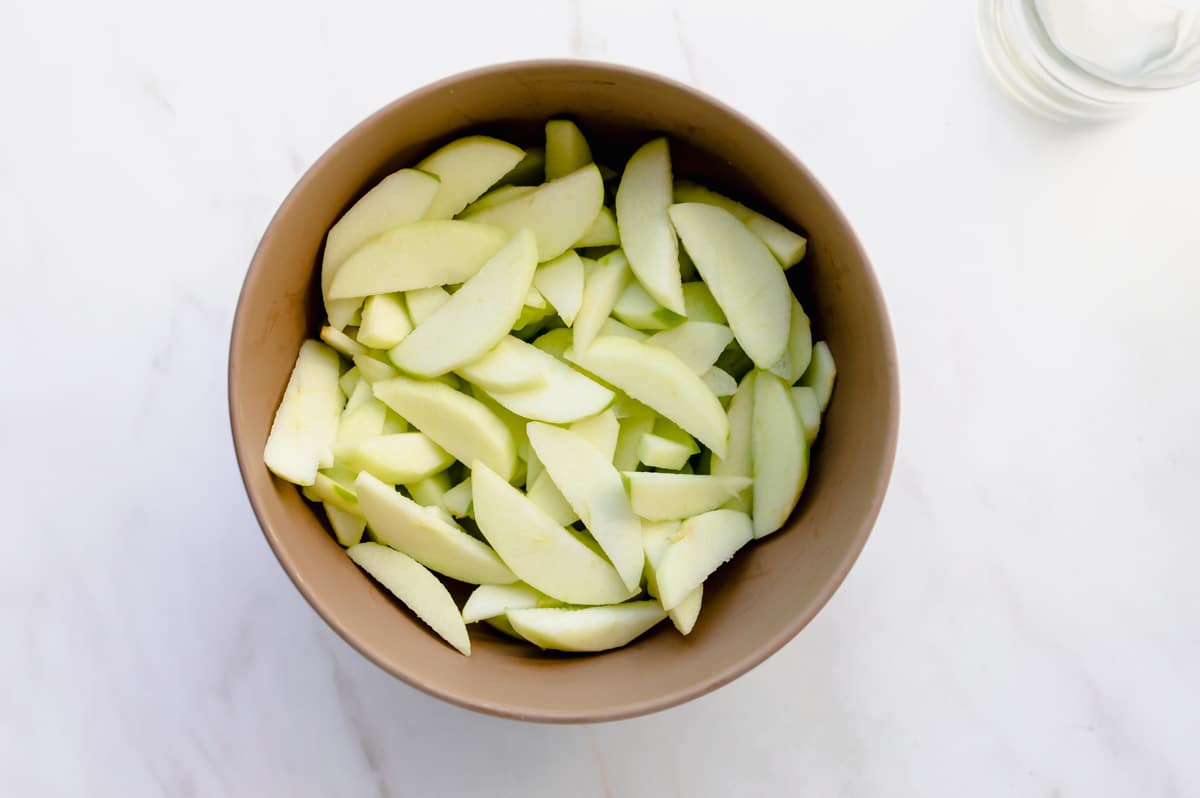 Peel and slice apples. Add them to a large bowl and toss with lemon juice, cinnamon, sea salt, and nutmeg.
Place coated apple slices into a greased baking dish. Add crumble (described below)
How to make a vegan gluten-free crumble topping
The crisp topping may just be the best part of this apple dessert as it adds a delightful texture. When baked, it crisps beautifully and the nutty and buttery notes are the perfect companion to the sweet and tart cinnamon apples.
Add pecans to the bowl the apples were in and crush them until bits and pieces are left. Alternately, use a food processor. To save time and/or muscle, use pre crushed or pre chopped pecans.
Add the rest of the dry ingredients and stir together. Add the melted butter and stir again until combined.
Finally, sprinkle the crumble over the sliced apples. Bake until crisp and golden brown.
Substitutions
Easily adjust this healthy apple crisp recipe to be your own. Here are some recommendations for substitutions. Be sure to comment and let me know if you try something new!
Apples: Honeycrisp apples and Pink Lady apples are great alternatives for an extra sweet and crisp crunch. Alternatively, use a combination of both.
Sea salt: iodized or Himalayan pink sea salt are great alternatives.
Pecans: use walnuts or more oats instead.
Almond flour: substitute for almond meal or oat flour. If making homemade oat flour, ensure it is finely ground. A bit more butter (or oil) may be needed as oat flour is more dense than almond flour.
Brown sugar: I've used both Wholesome light and dark brown sugar as well as coconut sugar. All are great options!
Vegan butter: I recommend using Miyoko's vegan butter, but avocado oil is a great alternative.
Nutmeg: we are using a small amount for additional warmth and for a hint of clove flavor, but if you do not have any (or don't enjoy the taste) use an additional dash of cinnamon.
Maple syrup: maple truly works the best in this recipe as it's flavor pairs nicely with all of the other ingredients but another liquid sweetener like agave would also work.
Variations
Want to take the apple crisp recipe up a notch on the sweetness scale? Here are some of my favorite ways to please my sweet tooth:
Swap Granny Smith for an extra sweet type of apple; Honeycrisp, Gala, or Golden Delicious are great options.
Top it with a scoop of ice cream (vegan vanilla bean is my personal favorite)
Add date syrup or additional maple syrup
Sprinkle with vegan powdered sugar
Drizzle with vegan caramel sauce (homemade version coming soon)
Storing apple crisp
This recipe will last for about a week in the refrigerator. To maintain freshness, store in an airtight container.
To reheat, place in a microwave-safe bowl and heat for about 20 seconds. Alternatively, preheat the oven to 350. Add a bit of the apple crisp into a mini coquette and bake until warm.
📋 Recipe
Vegan Gluten-Free Apple Crisp + Nutty Crumble Topping
This vegan gluten-free apple crisp is made of sliced granny smith apples topped with a buttery and nutty crumble. Pairs best with a scoop of vanilla bean ice cream and a drizzle of date syrup or vegan caramel sauce.
Ingredients
4-5

granny smith apples, peeled and thinly sliced

1

small

lemon, juiced

(½ of a large lemon)

1

heaping teaspoon

cinnamon

⅛-¼

teaspoon

nutmeg

large pinch of sea salt
Crumble
½

cup

crushed pecans

(or walnuts)

½

cup + 2 tablespoons

almond flour

⅓

cup

gluten-free rolled oats

3

heaping tablespoons

coconut sugar

½

teaspoon

cinnamon

3-4

tablespoons

vegan butter, melted

(I used Miyoko's oat milk butter)
Instructions
Preheat oven to

350

°F

. Grease a 10.5 X 7.5 rectangle baking dish (or something similar) with avocado oil (or oil of choice).

Peel and slice the apples, then place into a medium-sized mixing bowl, juice a lemon over the apple slices and then toss to coat. Add cinnamon, nutmeg, and salt. Toss (or stir) until coated.

Place apples in the baking dish. Add pecans to the bowl the apples just came out of and crush them with the bottom of a jar/glass. Once crushed, add the rest of the ingredients listed under the crumble EXCEPT the butter. Stir together the dry ingredients, then add melted butter and stir again.

Add crumble over the top of the apples and then drizzle with maple syrup (roughly 2-3 tablespoons). Bake for 30-35 minutes (mine typically takes 33) on the middle rack or until golden brown and fragrant.

Remove from oven and let cool for 5-10 minutes. Serve with a scoop of ice cream, whipped cream, or a drizzle of date caramel.
Notes
If apples are standard (or on the slightly larger size) use 4 of them. If apples are smaller than average, use 5.
If the crumble ingredients do not bind together, add another tablespoon of butter (start with 3 and increase to 4 if needed). 
To melt butter, add to the microwave and heat for 5-10 seconds and then stir. 
If you made this gluten-free vegan apple crisp let me know how it went in the comments below! Hearing from you makes my day. Be well, xxo!