This quick vegan gluten-free flatbread pizza crust comes together quickly without yeast! It's made with a few simple ingredients and is ready in 15 minutes.
When the pizza craving hits but your limited on time, this crispy thin crust pizza crust is perfect. It's a simple combination of ingredients that are combined and then gently pressed/formed into a small personal sized pizza crust.
We are cooking it via stovetop instead of baking it so it only needs about 6-8 minutes to cook. The result is a thin and crispy flatbread, that works as a healthy pizza crust recipe too!
Jump to:
What is the difference between flatbread and pizza crust?
Ingredients. Yeast is the key difference in ingredients between flatbread and pizza. Flatbread does not include yeast whereas pizza crust does.
Texture. The yeast in pizza crust creates a thicker, fluffier, and chewier texture in comparison to a yeast-free flatbread crust. Conversely, flatbreads are typically light and crispy with no rise.
Cooking method. Pizza crust is typically always cooked in an oven, whereas flatbread crust can be cooked via skillet or griddle. Pizza tends to need more time (to rise and then bake in the oven) while flatbreads come together in 10-15 minutes.
Sauce and toppings. It's said that flatbreads can be more versatile than pizzas but I think anything can go on a flatbread or a pizza, especially when you're making it yourself at home. Except pineapple, that does not ever belong on either 🫣.
Given these points, technically we are making a vegan flatbread crust. Regardless of the technicalities it's a great gluten-free pizza crust recipe that's easy and healthy #winning.
Vegan gluten-free flatbread pizza crust ingredients
A simple combination of almond flour and arrowroot flour with salt, pizza spices (oregano, garlic, basil), and a vegan flax egg is all it takes to make the vegan pizza crust. Grab a mixing bowl and the following ingredients:
Blanched almond flour
Arrowroot flour (or sub tapioca flour)
Flax egg (golden flaxseed meal with water)
Sea salt
Pizza seasoning (or sub oregano, garlic, and basil)
Avocado oil (or neutral oil of choice)
How to make vegan gluten-free pizza crust no yeast
First, prepare flax egg and set aside to set. Add all dry ingredients to a bowl and stir together.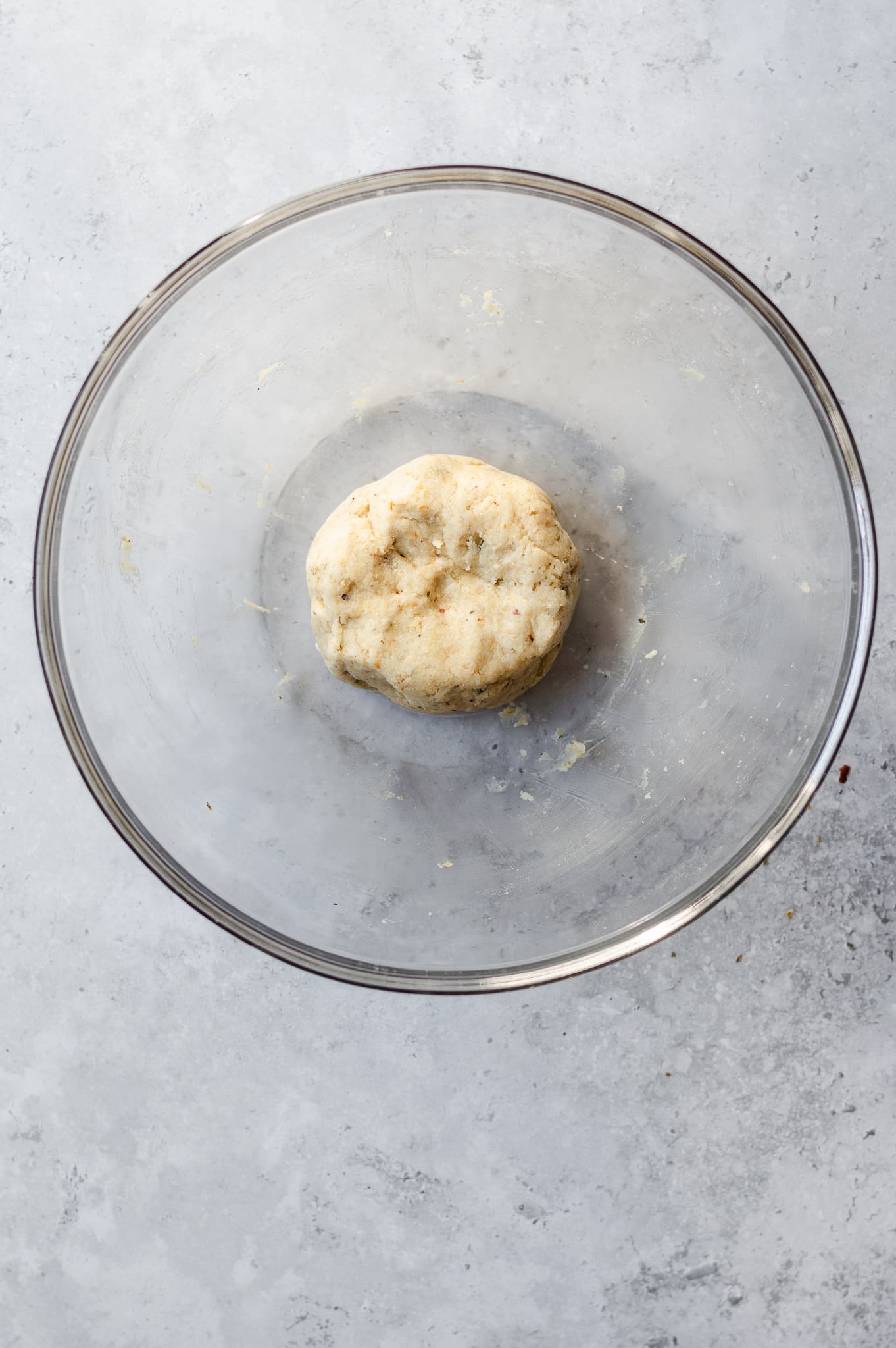 Next, add wet ingredients and stir to combine until a ball is formed.
Then, add the dough to greased parchment paper and shape into an 8 inch circle with your hands.
Finally, carefully remove from parchment paper and place onto a warm greased skillet and let each side cook for 3-5 minutes.
Top tips for making flatbread pizza crust
Cast iron. Cast iron pans result in the best flatbread texture and taste. I used this cast iron griddle and love it for making french toast too!
Golden Flaxseed Meal. Use golden flaxseed meal instead of brown flaxseeds. Golden flaxseed meal adds to the overall light and buttery flavor of the crust, whereas brown flaxseed can add too much of a toasted, earthy flavor.
Rolling/shaping. The recipe is for a personal sized pizza, making it easy to shape and form with your hands. However a rolling pin can be used if needed.
Thickness of crust. If you're like me and love an extra crispy very thin crust, be sure not to roll it too thin - it will fall apart when you are transferring it from the parchment paper. Aim for ¼ inch as the thinnest.
What to pair with pizza for dinner
Looking for a healthy side to serve with pizza? Pizza goes well with salads, soups, and/or roasted veggies. Here are some of my favorite salads;
When the cooler temperatures hit, soup warms the soul!
Brussels sprouts are my favorite vegetables to enjoy with pizza! Broccoli and seared zucchini are also great options. Here are my favorite Brussels sprout recipes:
Make-ahead options
Fridge. Add about ½ a teaspoon to the bottom of an airtight container. Add prepared dough and place into the fridge for up to two days.
Freezer. Place parchment paper into an airtight container and add dough. Seal tightly. When you are ready to enjoy, remove and let thaw before shaping and cooking. Add another drizzle of avocado oil if it has dried out at all during the thawing process.
📋 Recipe
Quick Vegan Gluten-Free Flatbread Pizza Crust
An easy and quick vegan & gluten-free flatbread pizza crust. Made with a few simple ingredients and no yeast! Top with sauce, cheese, and whatever other goodies your heart desires.
Servings:
1
personal sized flatbread
Equipment
round 10.5 inch cast iron griddle or skillet

measuring cups & spoons

small bowl + medium-sized mixing bowl
Ingredients
1

flax egg; 1 tablespoon golden flaxseed meal mixed with 3 tablespoons water

½

cup

blanched almond flour, packed

2

tablespoons

arrowroot flour

½

teaspoon

pizza seasoning* (or sub ¼ teaspoon each of oregano, garlic, and basil)

¼

teaspoon

sea salt

1

tablespoon

oil
Toppings of choice
pizza sauce

vegan cheese

pesto + veggies

crispy tofu

buffalo sauce

sautéed veggies

baked chickpeas
Instructions
Prepare flax egg: in a small bowl add flaxseed and water and whisk well. Set aside.

Combine ingredients: add almond flour, arrowroot flour, pizza seasoning, and sea salt to a medium-sized mixing bowl and stir to combine. Next, add the flax egg and oil and stir until a ball easily forms.

Shape crust: drizzle a bit of oil over a piece of parchment paper. Flatten and shape into an 8 inch circle. It's thin, but be sure not to make it too thin or else it will fall apart as you tear it away from the parchment paper.

Warm skillet: warm a 10.5 inch cast iron griddle or skillet (or something similar) over medium-low heat. Once warm, add a tablespoon of avocado oil. Gently remove the crust from the parchment paper and place onto the skillet. Let cook for 4-5 minutes and flip. Decrease heat slightly and cook the other side for another 3-4 minutes (or until crisp/charred to your liking).

As the second side cooks, add desired toppings and cover to help cheese melt. If cheese needs additional help to melt, add ½ a teaspoon of water to the pan for additional moisture and cover for 1-2 minutes.

The flatbread works best if you prepare the toppings before. You can also add toppings and broil in the oven if needed.