This healthy breakfast superfood cereal is made with hemp seeds, chia seeds, flaxseeds, quinoa & more! It's easy to throw together and has an irresistible sweet cinnamon flavor that's reminiscent of your favorite childhood cereals. A great way to start the day!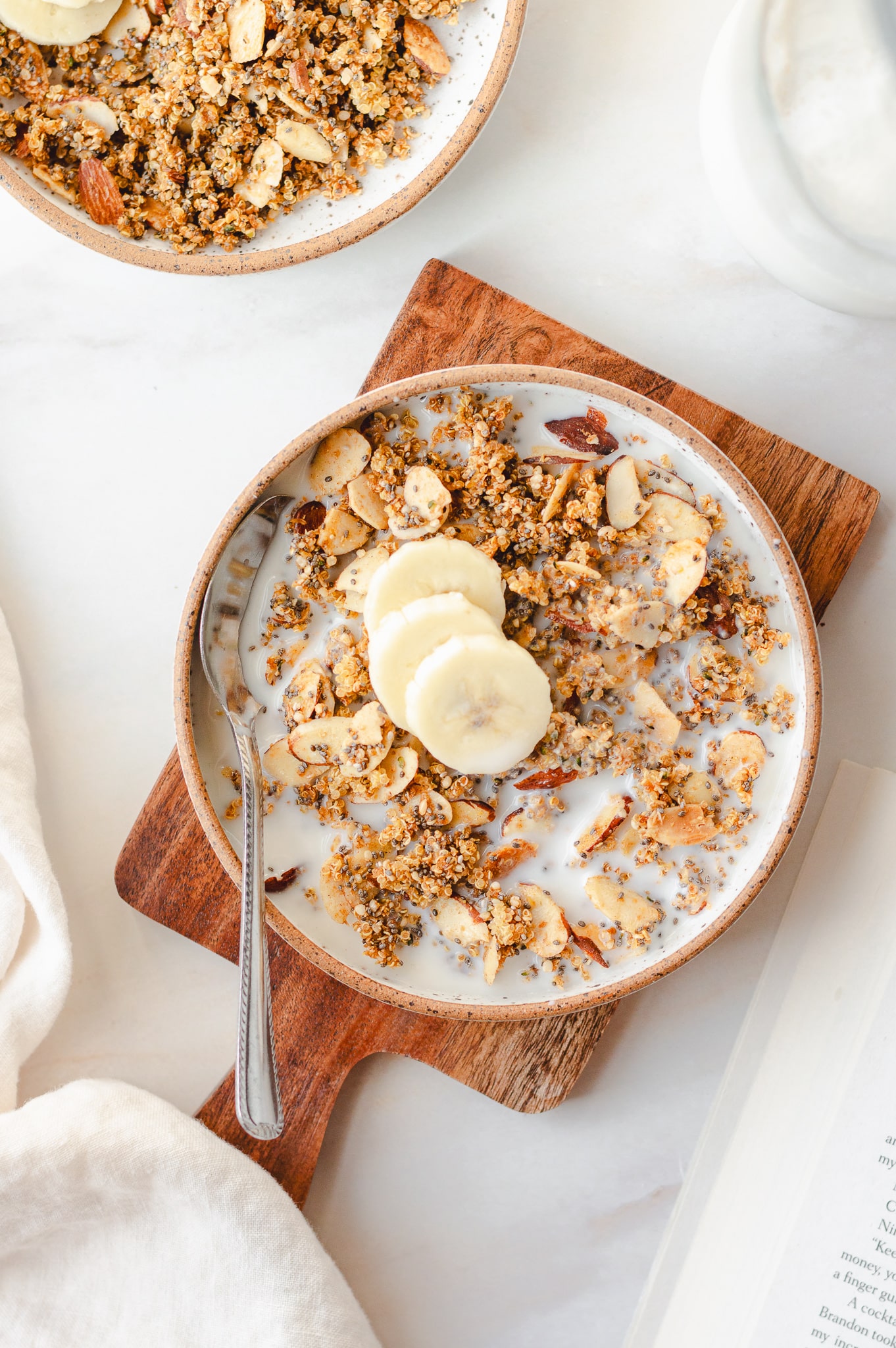 Nothing compares to a bowl of cereal as a late-night snack (or an impromptu dinner). Unfortunately, so many store-bought cereal options are loaded with sugar and processed ingredients. About 12 grams of added sugar is in 1 cup of some of the most beloved cereals out there. PS Golden Grahams were definitely my childhood favorite - reply in the comments and let me know yours!
Don't get me wrong I'm all for a treat now and then, but to make matters more complex, most of the options out there are not vegan and gluten-free. So naturally, I had to create a healthier alternative using simple ingredients.
Purely Elizabeth's superfood cereal is the inspiration behind this recipe. The clusters are made with gluten-free oats, sorghum, puffed amaranth, chia seeds, almonds, and dried blueberries.
In this recipe, we are keeping the chia seeds and sliced almonds, but using toasted quinoa and additional seeds (hemp seeds and flaxseed meal) instead of oats, sorghum, puffed amaranth. We also are swapping out blueberries for a bit of maple syrup and lots of cinnamon for warm sweetness. It's simple, it's crunchy, and it tastes incredible with a bit of vanilla almond milk and fresh fruit.
Best part? You can slurp the sweet cinnamon flavored milk out of the bowl (anyone else remember using the straw bowls as a kid?) after or add it to your coffee!
Jump to:
Superfood cereal ingredients & substitutions
Here are all of the ingredients that are needed to make this homemade cereal:
Cooked quinoa: I prefer white quinoa in this recipe, as it's less bitter than red or black but feel free to use whatever you have on hand.
Sliced almonds: adds a subtle crunch as well as additional protein, healthy fats, and fiber. If you can't find sliced almonds, crush or chop whole almonds.
Hemp & chia seeds: tiny but mighty little seeds that add protein and omega 3 and 6 (hemp seeds) as well as fiber (chia seeds).
Flaxseed meal: use golden flaxseed meal for additional hints of buttery sweetness. Flaxseeds are one of my favorite superfoods as they are easy to add to cereals, breakfast bowls, smoothies, and more for additional protein and fiber.
Pure maple syrup: adds antioxidants and natural sweetness, it's also vital to help keep the ingredients together and create clusters as the cereal cools so don't skip it!
Cinnamon: a key ingredient in this recipe as it adds a ton of flavor and warmth.
Salt: a pinch of sea or iodized salt adds additional flavor and ties all the ingredients together.
How to make homemade healthy breakfast cereal
Toast cooked quinoa in the oven to remove additional moisture.
Combine slightly toasted quinoa with the rest of the ingredients and stir together
Bake again until golden.
Remove from oven and let cool for at least 15 minutes to allow clusters to form.
Additional add-ins / toppings
Here are some other nutrient dense foods that can be added to the superfood cereal:
Peanut butter (drizzle natural creamy peanut butter on the cereal after baking/before enjoying).
Gluten-free rolled oats
Nuts (cashews, pecans, walnuts)
Fresh fruits (add after baking)
Pumpkin seeds
Dried fruits such as goji berries, raisins, or dried cranberries
Ways to enjoy superfood cereal
Anything you can enjoy granola with, you can enjoy superfood cereal with as well! Eat it by the handful or as follows:
Enjoy as you would any traditional bowl of cereal and top with almond milk, soy milk, or plant-based milk of choice.
Sprinkle over yogurt and fresh fruit
Add to smoothie or açaí bowls
Other healthy breakfast options to start your busy mornings with:
Storage recommendations
Once the cereal has completely cooled, store in an airtight container for up to two weeks.
📋 Recipe
Homemade Healthy Breakfast Superfood Cereal (Vegan)
This healthy breakfast cereal is loaded with superfoods and has a sweet cinnamon flavor that is irresistible.
Equipment
mixing bowl + spatula or wooden spoon

baking sheet (lined with parchment paper)

measuring cups & spoons
Ingredients
1

cup

white quinoa, cooked

½

cup

sliced almonds

2

tablespoons

EACH of hemp seeds, flaxseed meal, and chia seeds

1

tablespoon

coconut sugar

1

tablespoon

pure maple syrup

½

teaspoon

cinnamon

pinch

iodized or sea salt
Instructions
Prep: first, cook quinoa according to package instructions if needed. Next, preheat oven to 350℉. Line a baking sheet with unbleached parchment paper. Add 1 cup of cooked quinoa to the baking sheet and spread evenly. Bake for 15-18 minutes or until the quinoa is not super wet to the touch and has started to crisp slightly.

Combine ingredients: When the quinoa has about 2-3 minutes left, add all other ingredients to a mixing bowl. Add quinoa and stir to combine. Decrease oven temperature to 315℉. Place the mixture onto the baking sheet and place back into the oven.

Bake: Bake for another 15-20 minutes, or until the sliced almonds are golden. Remove from oven and let cool for 15 minutes, undisturbed (do NOT stir, this allows clusters to form). Enjoy as is or top with milk and sliced bananas.
Notes
*total time does not include preparing/cooking quinoa.